We are Cancer Survivors!
All testimonials are from actual patients.
Quantum Immunotherapy is effective for most types/stages of cancer.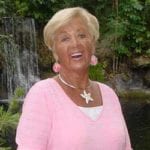 J.W. Salivary Gland Cancer Diagnosed April 1979
Joan was diagnosed in April, 1979, after her salivary gland was excised. She came to the IAT Clinic following extensive radiation. Her prognosis was "terminal" by a well-known head & neck surgeon in NYC. He gave her three options: 30% chance of survival with radical surgery of the face, jaw & tongue. Less percent with less radical surgery, or extension of life for a short period of time with radiation, only. She chose radiation, keeping her face intact & began the IAT treatment in September of 1979…Now, 32 years later, she continues to be cancer free, thanks to the Immuno Augmentative Therapy.
M.C. Ft. Lauderdale, Florida Diffuse Histiocytic Lymphoma
Mary was diagnosed in 1984 at age of 23. Mary came to the Clinic, following extensive chemotherapy and radiation which had failed to produce any remission. She was very ill and had only 6 weeks to live (according to her doctors). She began the IAT treatment and just got better and better, to quote Mary, "IAT – It works!" It is now 17 years later; Mary is now 40 years old and proud to admit it. She looks great and says she is cured. Mary returns for her "tune-ups" at the clinic to make certain she stays well.
M.L. Sacramento, CA Breast Cancer Diagnosed August 1987
Millie was diagnosed in August 1987, had a lumpectomy and found to be in Stage 2, 1 out of 6 lymph nodes involved. She had 3,420 rads of radiation, no chemotherapy. Millie went to a California Clinic where they stressed diet and vitamins and supplements. After nearly a year she went to another doctor who told her "When it comes to cancer, Burton is King!" He recommended she go to the Clinic in Freeport, Grand Bahama, Bahamas. Within two weeks she and her husband were at the clinic and she began the IAT treatment. That was in August of 1988. Millie has been well, no metastases, since she has continued on the IAT treatment.
C.L.B. Delran, NJ, Malignant Melanoma
"I was given 9 months to live with stage 4 Melanoma. Three months after my visit to ITL I was Cancer free. Miracles do happen in the Bahamas. I can not Thank you enough!"
The following is the results from Carol's CT Scan and PET/CT fusion imaging dated November 1, 2005: "There are no focal areas of hypermetabolism seen to suggest residual/recurrent disease. The previous areas identified on September 2, 2005 including right anterior abdominal wall, right forearm, and right shoulder are no longer appreciated… There is no evidence of residual/recurrent disease at this time. All areas of increased uptake on previous PET scans are no longer appreciated and have resolved."
E.P. Malignant Pleural Mesothelioma Diagnosed June 2001
"After being blindsided by the diagnosis of Malignant Mesothelioma, a fatal cancer caused by asbestos exposure, I researched every traditional option. However all treatments pointed in the same direction. Traditional medicine offers no successful treatment for this type of cancer. I tried six months of chemotherapy however my body could not withstand the toxicity of the chemo drugs. Just as I was giving up hope I was introduced to a local gentleman who eight years prior received treatment through the IAT centre and is cancer free today. It has been two years since I began my treatment with IAT. I feel the combination of the treatment, my faith and the patient camaraderie is responsible for my survival of this almost always fatal disease. Today my life is good and my future is hopeful."
J.W. Metastatic Prostate Cancer Diagnosed September 1998
"In September 1998 I was diagnosed with inoperable metastatic prostate cancer and was given no chance for long-term survival. After in depth research, I chose to decline radiation and instead boost my immune system. Five years later I never felt better and am looking forward to a full remission. I am 74 years old and cancer does not scare me any more. Thank God for my own immune system and the treatment that I am presently taking."
P.W. Malignant Pleural Mesothelioma Diagnosed December 2001
"I made the decision to come to the IAT Centre because the treatments offered to me by the Mesothelioma specialists were not at all promising. I was told in the States that I would not live through the year without radical surgery and chemotherapy. I opted not to follow that advice. I arrived in Freeport in April of 2002, after locating other Mesothelioma survivors who had gone through the IAT treatment. After, one and a half years of being on the IAT treatment, I returned to the specialist who originally diagnosed the cancer. He was so impressed with how well I am doing that he has decided to tell his other Mesothelioma patients of the IAT treatment. He told me he couldn't believe that I am still alive, let alone doing so very well. My faith led me to the IAT centre. The support of my family and the friends I have met at the centre have blessed me with the gift of hope."
J.P. Lymphocytic Lymphoma Diagnosed 1980
"In June of 1980, I was diagnosed with lymphocytic lymphoma. In July of 1980 I started radiation which consisted of 20 treatments. The doctor told me the cancer had been taken care of with the radiation. Near the end of October several tumors had appeared and after many tests they all were diagnosed to be the same type of cancer. I was then advised to take chemotherapy. This treatment along with two kinds of pills was given for eleven months. While taking the chemotherapy more tumors kept appearing and all were diagnosed as the same type of cancer. The last time I went to this doctor the news was, "I don't know what to do next, other than, try to keep you as comfortable as I can, with what time you have left." The cancer had now spread to both lungs and bone marrow. I visited with my General Practitioner and he advised me to go to IAT and supplied me with a phone number. I came to IAT the last week of June in 1982 and in two weeks the visable tumors were gone and I was a different person. This has been 22 years ago and life is great for me. Tumor Free!"
R.P. Peritoneal Mesothelioma Diagnosed July 1999
"In July 1999, I was diagnosed with abdominal mesothelioma. The prognosis of 8-12 months even at the "top" cancer centers was grim. Fortunately, we found I.A.T. through a television program and came December 1999. I have done so well on the treatment the past 4 years, even my Oncologist and surgeon have been amazed. I have good quality of life and plan to continue treatments."
J.B. Breast Cancer Diagnosed 1992
"I was diagnosed in 1992 with an aggressive form of breast cancer. Completely devastated, I was presented with very few treatment choices, and a very poor prognosis. After enduring surgery, chemotherapy, and radiation I chose to investigate alternative options. As a Registered nurse coming from a medical family, this was a big step for me. It is now twelve years later and I have not had any reoccurrence. My Oncologist is always amazed when I see him and his statement at the end of the visit is "just keep on doing whatever you are doing". I can assure you that I firmly believe I would not be here today enjoying the quality of life I have without the Clinic."
J.J. Worthington, Ohio, Cancer of the Tongue – squamous cell carcinoma.
John was diagnosed on February 12, 1999. The doctor gave him two options, one was to remove his tongue and jawbone that would have him breathe through a tracheotomy and eat through a stomach tube. The other choice was radiation. He had 35 radiation treatments after which he had 6 biopsies of his tongue. They found the cancer was still there. The doctor then wanted to schedule the surgery. Both John and his wife, Ann, said "No!" They decided to go to the Clinic. They had known about IAT but like most people they did not want to leave home for a foreign land. But they were pleasantly surprised when they arrived in Freeport. "Everyone is so friendly," when they got to the clinic and opened the door to the waiting room they found a happy, animated group of healthy looking individuals, not full of gloom and doom as one would find in most cancer hospitals and clinics. They felt so welcomed by fellow patients that their first stay of 10 weeks was a pleasant time. It was June 21, 1999 when John began the IAT treatment. Later that year in December, he had a CAT scan that showed the tumor on his tongue was diminishing. The oncologist who first told them that IAT would not work, in October 2000, said IAT does work, "keep on doing what you are doing" was the Oncologist's advice. As of April 2001, John's tongue is now cancer free!
R.B. Esophageal cancer Prostate cancer Diagnosed September 2002
"I was diagnosed with cancer of the esophagus in September 2002. I had photodynamic treatment at the Mayo clinic. In January of 2003 I was also diagnosed with prostate cancer with a Gleason score of 6. The esophagus tumor came back in April 2003. I was told then that if I didn't have my esophagus and a third of my stomach removed I would "be dead in a year." My friend Sandy told me about the IAT clinic. I started my own regimen of supplements and then went to the Bahamas for the first time in November, 2003. I have regular PET and CT scans which have showed no evidence of cancer in my body. My body has never been as well-nourished and I haven't ever felt as good as I have for the past two years. People say I look healthier, my hair is darker and I look younger than I did two years ago. The people at the clinic are extremely friendly and competent. I'm very happy with the clinic."
S.B. Ontario, Canada, Lung Cancer
In July of 1992, Sharon was diagnosed with large cell lung cancer. In September 1992, she started chemotherapy. After the chemotherapy, which didn't help, she then had deep body radiation 21 times. The radiation did not work; the tumor in her one lung was still there. Then they found a tumor on the outside of the chest; it metastasized to her neck and then the other side of her lung. She then had more chemotherapy at her own insistence. In December 1992 the doctors told her, "Sorry, there is nothing more we can do for you." Sharon's father and mother knew about the Clinic in Freeport. Her parents had been going to Grand Bahama Island for some years. They advised her to go to the clinic and find out about the cancer treatment. Sharon met with Dr. Clement who was very frank with her and made no promises about her lung cancer but said that they could visit and talk with the IAT patients in the waiting room. She did just that and was very gratified to hear the many long-term success stories from the patients themselves. On February 7, 1993, Sharon began the IAT treatment. Six months after starting IAT, the tumor disappeared and has stayed away. It is now 12 years later and Sharon remains tumor free.
David Raymer, non-Hodgkins lymphoma
"I have been a patient of IAT since 2001, after I was diagnosed with non-Hodgkins lymphoma. I highly recommend them, and they do excellent, purely scientifically based treatments. Now 10 years later I am still having clear scans. My father has been a patient since 1984, when he had colon cancer that had supposedly metasticized – he is also alive and well nearly 20 years later, with no recurrence ever. All I can say is, if you can, come." 
S.E. Mesothelioma Diagnosed March 2000
"In March 2000 I was diagnosed with mesothelioma and given a few months to live. A week later my husband brought me from England, traveling in a wheelchair, to the Cancer Clinic in the Bahamas. Within a few weeks of the treatment I was much stronger, swimming in the sea and going for long walks on the beach. I have remained completely fit and healthy since then. My last 3 annual CT scans showed no growth of the cancer-HOORAY!" – S.E.
Margaret BergerMorse
"I am the mother, sister, wife of several cancer patients of the IAT alternative therapy. Torrey Morse, my daughter arrived at the clinic in 1979 at age 9 with diffuse histiocytic lymphoma. She is today a healthy, active 42 year old woman who returns once a year for a maintenance tune up. My husband, Whitney Morse came to the IAT clinic as a patient following prostate cancer surgery in 2003. He is a nine year cancer free survivor. My sister, Jeanne Jones arrived at the clinic in 2001 with Uterian cancer. She is an eleven year survivor still on the IAT therapy. My sister, Roberta Buckley came to the IAT clinic in 1992 with a rare abdominal cancer with a six month prognosis of survival by the Mayo Clinic in Minnesota. She lived eighteen years, many of them with good health."

Schedule Your Appointment Today!